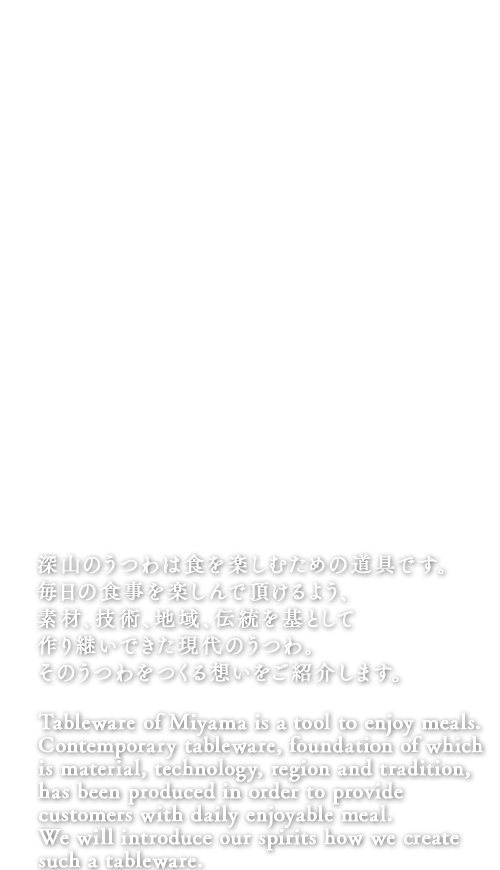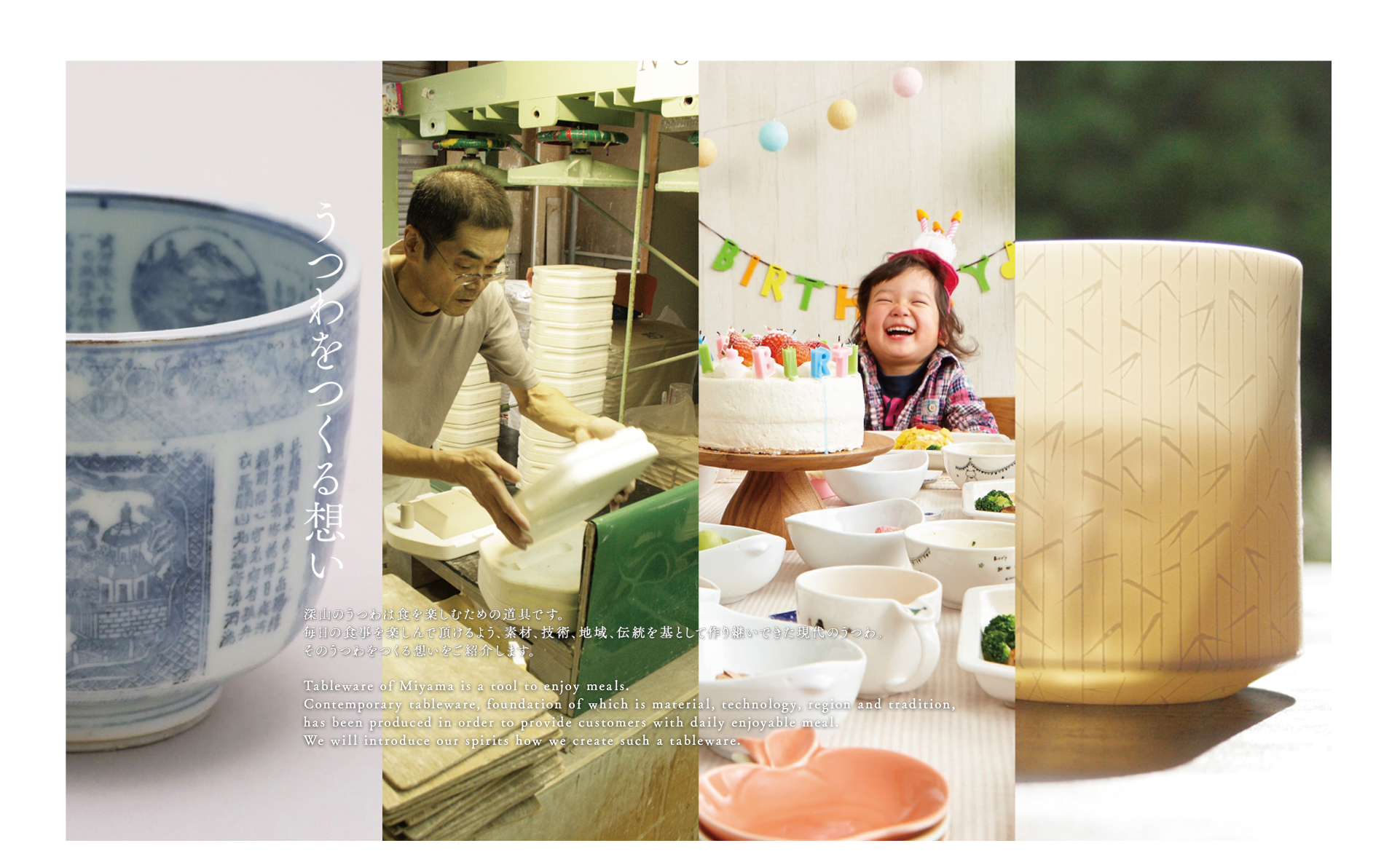 ・
"Tableware created through time and human hands"
Back in the middle of nineteenth century in Ori Inatsu cho, Mizunami City in Gifu Prefecture, the ceramic ware called "Risen-yaki" was created and it was the first challenge in the country to try ceramic painting by using copper plate. Miyama was born in this place in 1977, inheriting the art and spirit developed in this area.
Our tableware is created by the technique called "casting", which forms porcelain with plaster mold. The technique involves many people's skill in creating tableware.
Our tableware is produced basically by technological industry to ensure high-quality and usability of the products. Therefore, we continue the same manufacturing process every day. If you see only one moment, there seems to be no difference between human hands and machine. Even though it looks like the same work, we make a small device every day, which leads to a big improvement. To inherit technique which has taken root in this area means not repeating same thing every day but improving by accumulation little by little.
Manufacturing at present improves by inheriting the spirit of predecessors. We believe the time for this process is our treasure.
Risenyaki
The pottery which challenged ceramic painting utilizing the copper plate transfer for the first time in Japan in 1846, in Ori village(Inazu town, Mizunami City, Gifu Prefecture at present). The pottery is now closed.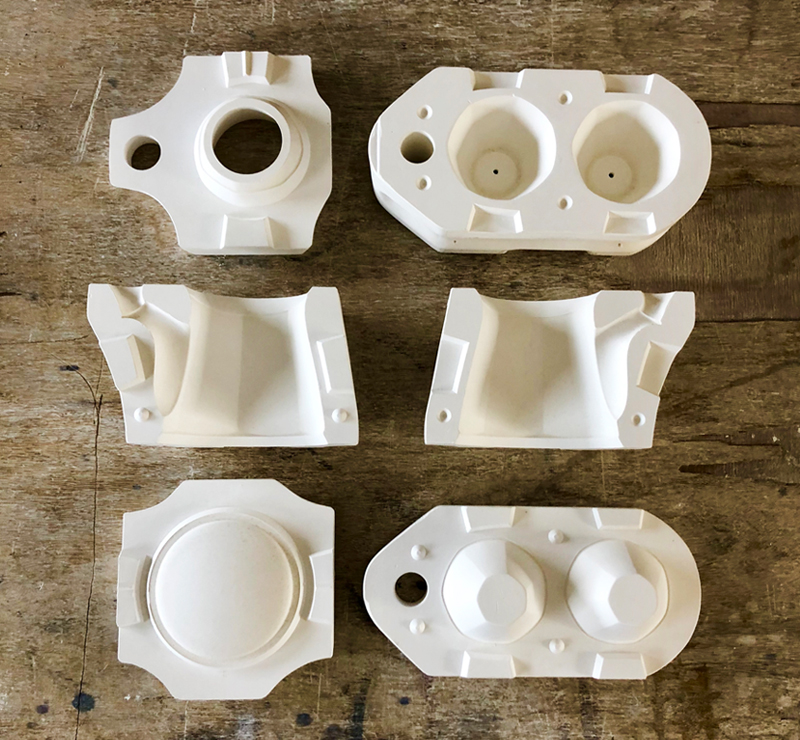 Plaster mold
Mold to form a tableware. It is made of plaster which has a high water absorption rate. By pouring porcelain clay and water into the mold, only moisture of the clay is absorbed and tableware is formed.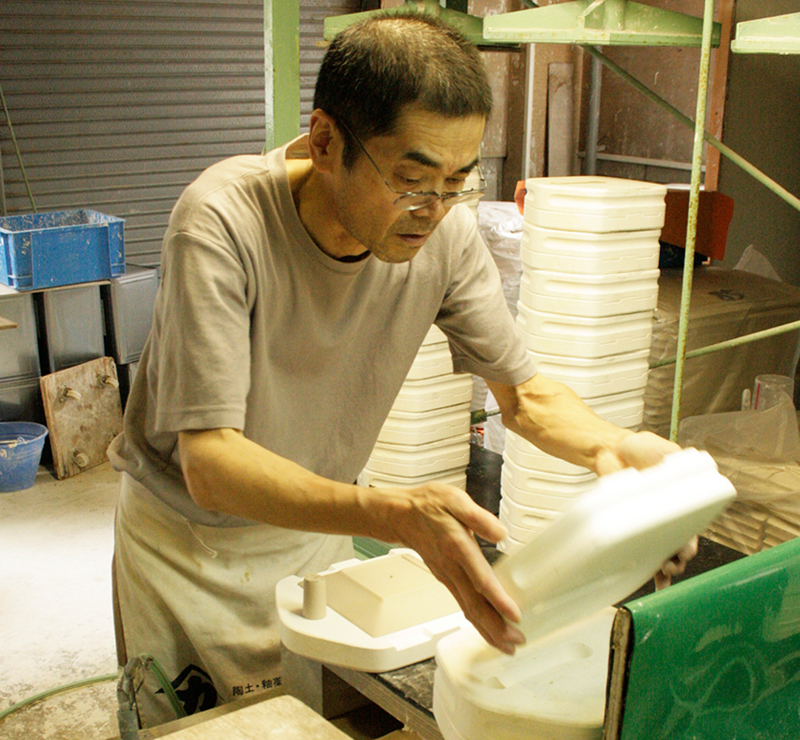 Pressure casting
This is used to form mainly plate, bowl and cup. Clay is poured into the mold by pressure. Unique plates like square plate and plate with partition can be manufactured.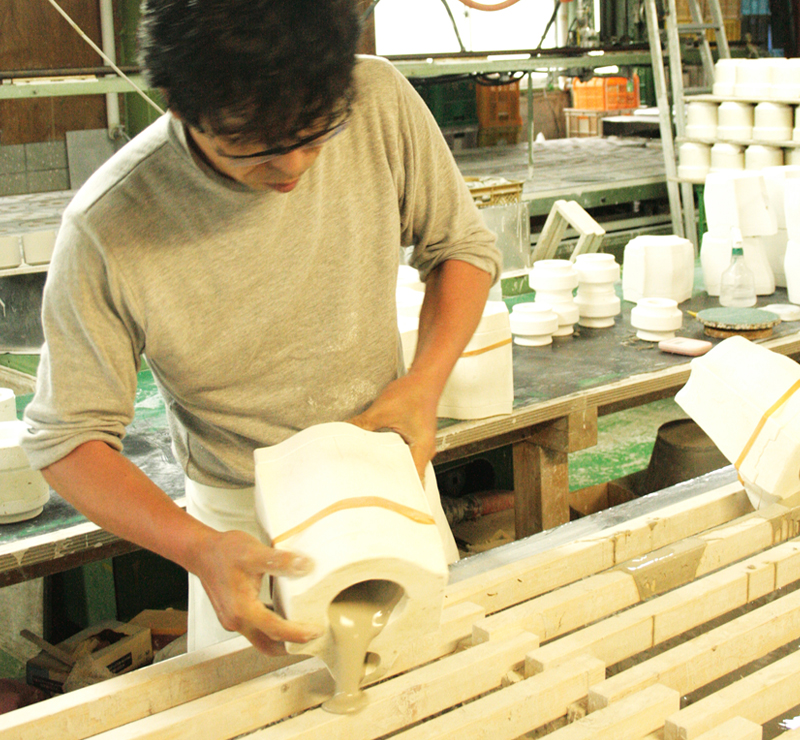 Sludge casting
To form the pot or vase which the mouth part is smaller than the body part.
The theory is same as pressure casting, but it needs a lot of attachments and also it is time consuming.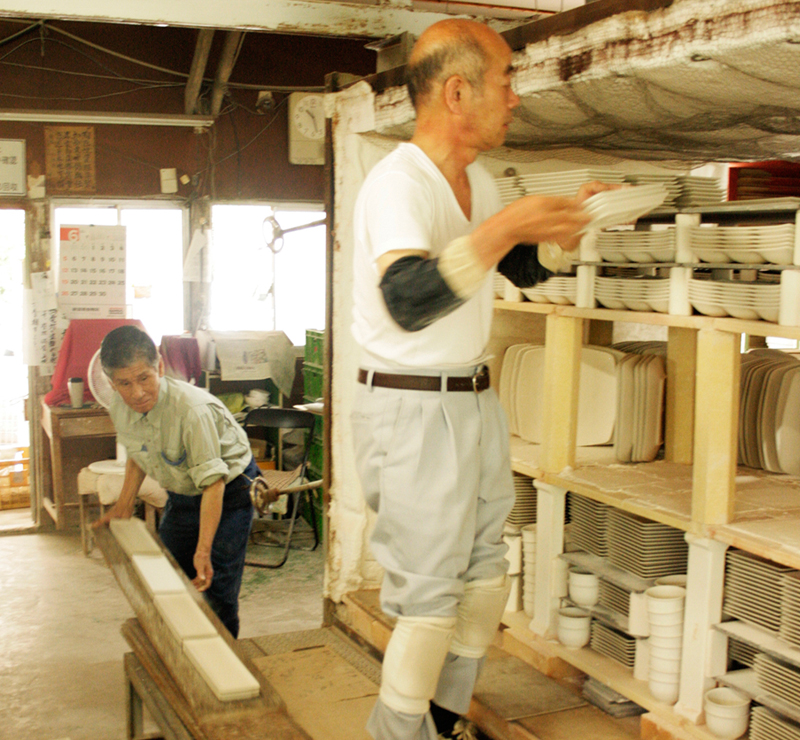 Biscuit firing
First firing at a temperature of 800 degrees in order to remove impurities, make it hard and raise the water absorption. This process raises precision of painting and glazing.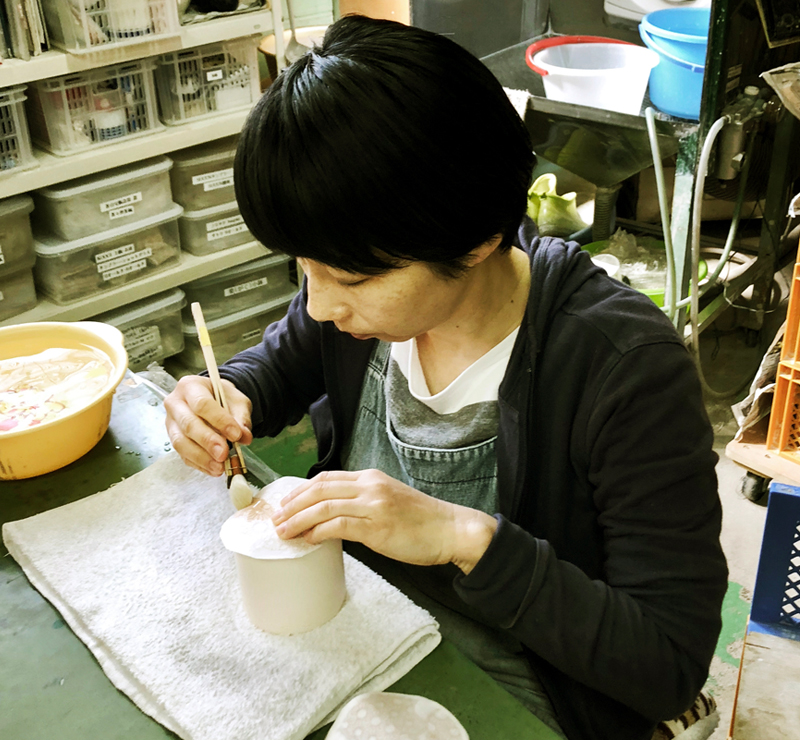 Painting
Lineage of Risenyaki, we are good at under glazed by cooper transfer, one by one with human hands. Afterwards, we apply glaze on the tableware.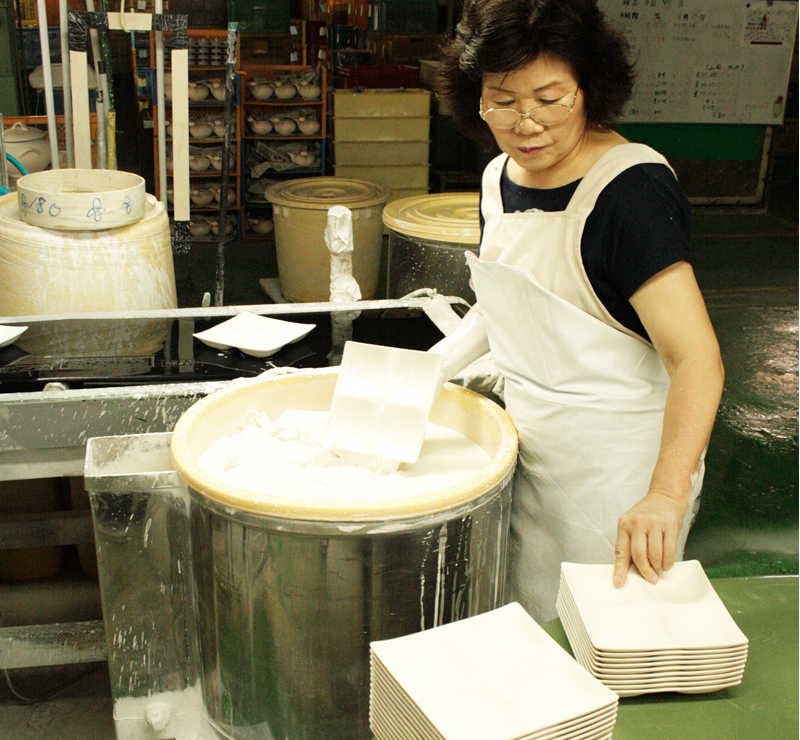 Glazing
The process of adhering liquid, "glaze", containing glass which makes the surface shiny and good texture to all over the surface of the tableware.l by utilizing water absorbance of the biscuit firing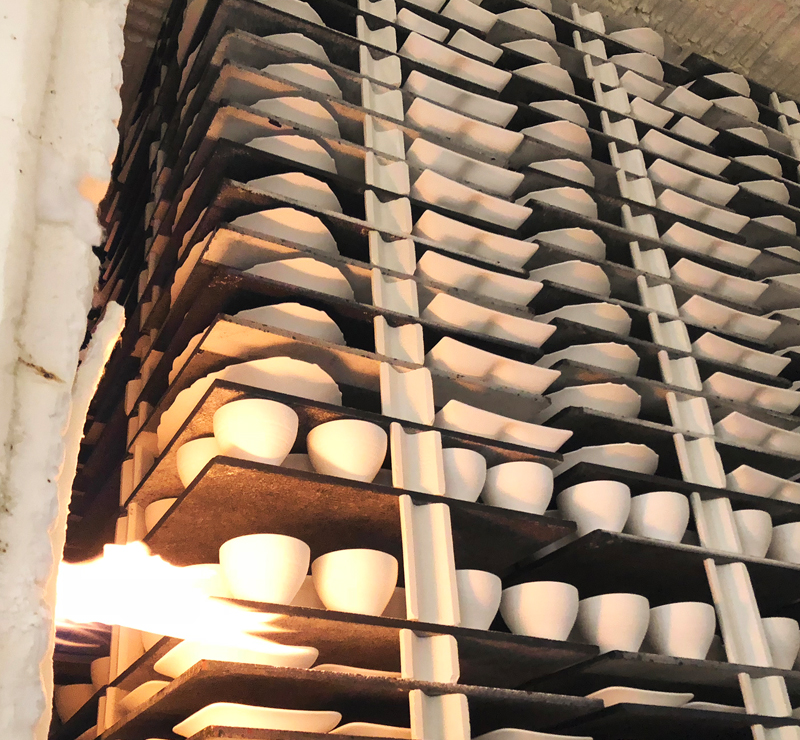 Firing
White porcelain glaze, the characteristics of which is shiny burnish, is applied redox firing at a temperature of 1350 degrees, on the other hand colored porcelain glaze, the characteristic of which is fine color, is applied oxidized firing at a temperature of 1240 degrees to make a tableware.
・
"Former world's leading producer of porcelain ware"
Mino-yaki is mainly produced in the cities of Tajimi, Toki and Mizunami, which are located in the east of Gifu prefecture. Among these cities, Mizunami used to be the world's leading producer of porcelain, which had been providing the world with dinner tableware. Mizunami was regarded as world's plant from the mid-1940th to the mid-1970th, having been engaged in producing high quality white porcelain ware as OEM plant of western and Japanese luxurious brand tableware which met the quality standard. We have developed the ceramic products by integrating the world's best technology accumulated in this porcelain production area with the current trend.
Miyama has continued to challenge ourselves to new manufacturing, utilizing our "white porcelain firing technology" and "high molding technique" accumulated in this area.
We believe that we can connect the technology with human life by making progress together with our community.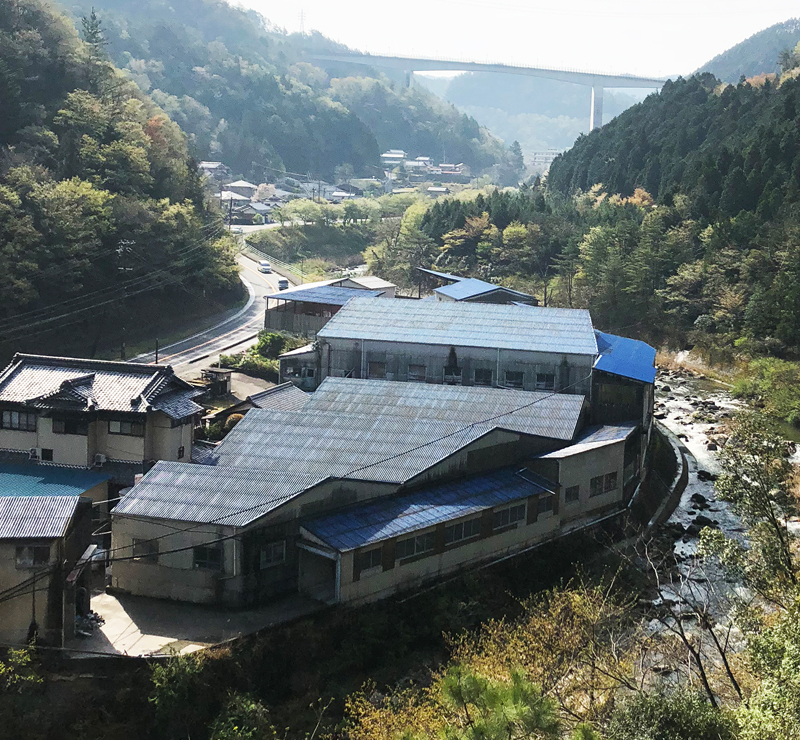 Mizunami City Gifu Prefecture
One of the best producers of western tableware in Japan, the share of which was 25% in the middle of 1960s. Even at present, materials and technology of those days are inherited and there exist 19 potteries even at present.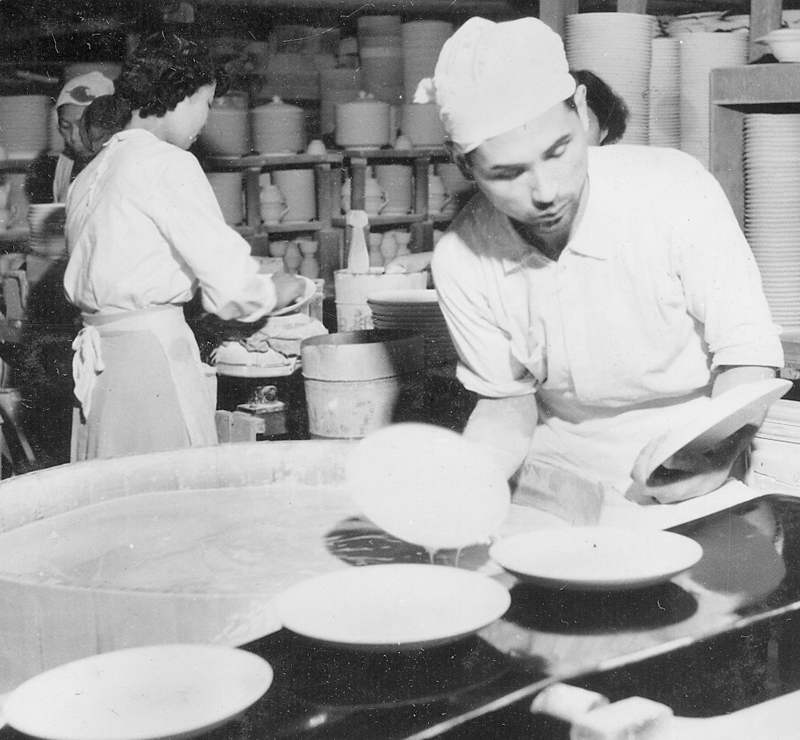 Human Resource =Techonology
Manufacturing varies unregularly by season and climate even the material and the shape is same.
Finally, craftsmen complete with their skills in proper way.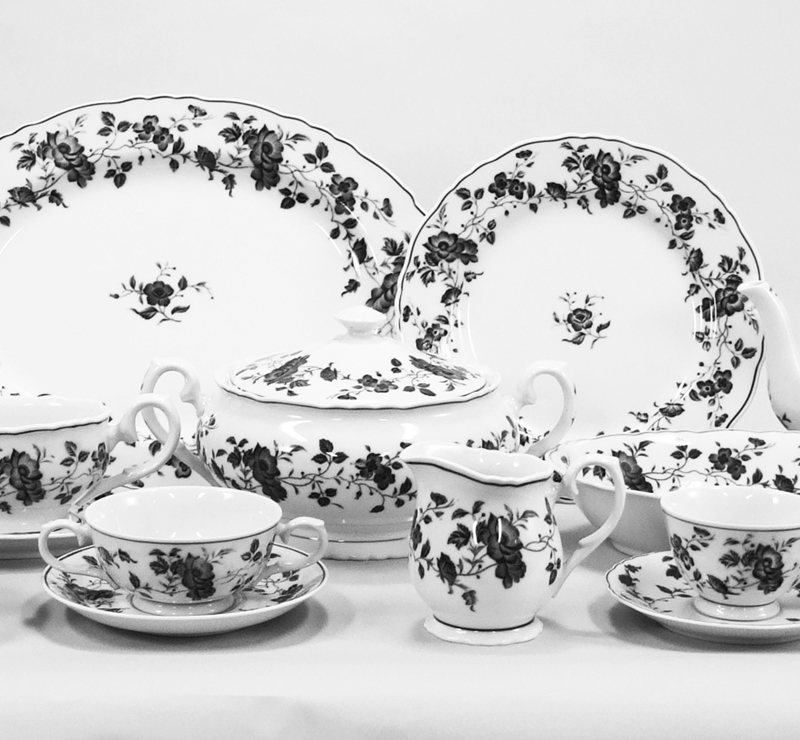 OEM
OEM means manufacturing license agreement with other company's brand. By manufacturing tableware which meets the standard of foreign and domestic high end western-style tableware, skill and consciousness have been fostered.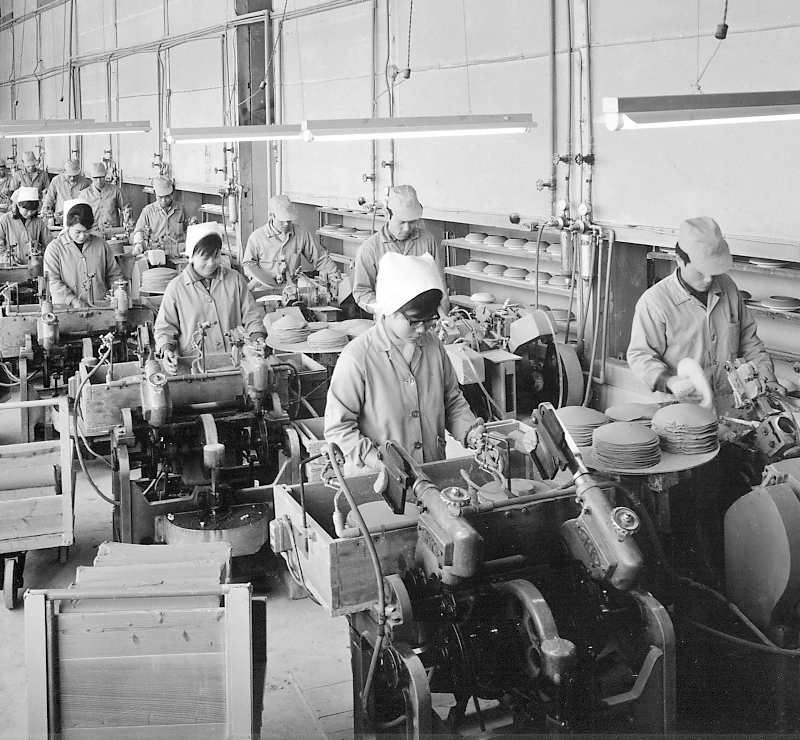 Export industry
Human resources who were called "Golden eggs" came from all over Japan. Technique was born and fostered by the hands of these predecessors and handed down until now.
・
"Beautifully finish material"
Finishing material beautifully.
For white porcelain, it is important to draw its original whiteness, which will lead us to improve its quality as well.
Miyama's white porcelain is created by firing porcelain clay which is rich in glass component at 1340 degrees.
By firing in a high-temperature oven, the clay and glaze get harmonized, vitrified and create translucent luster on its surface, and it becomes an easy-to-wash and stain ?resistant material at the same time. It will grow to be more functional and esthetically pleasing through this process.
Tableware with the beauty of utility.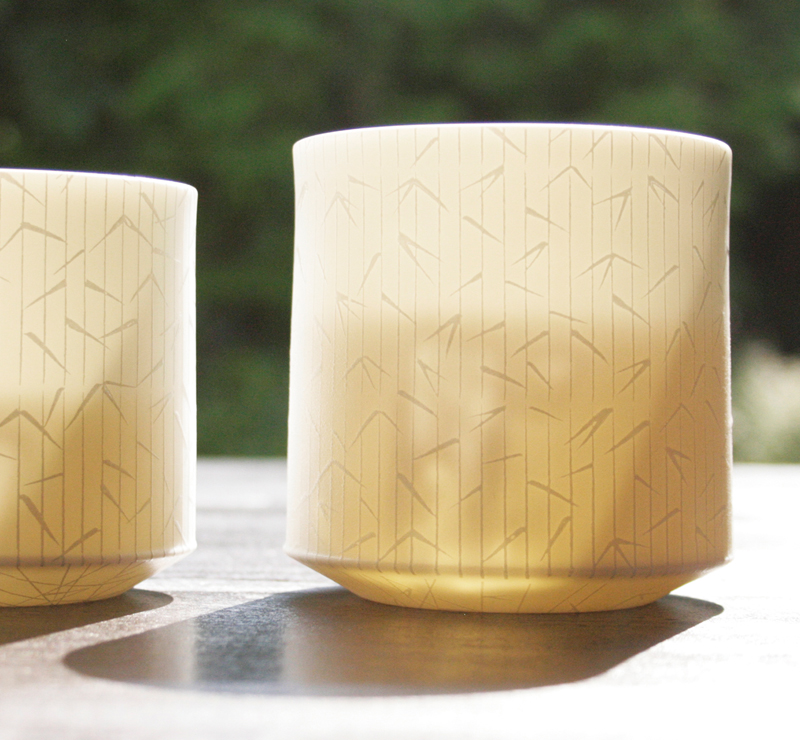 Vitrification
It is not thickness but translucency. Light can go through softly because it is vitrificated. White porcelain is made from the material containing glass and fired at the temperature of 1350 degrees.
Daily tools
Porcelain tableware, fired hardly, is a daily tableware which you can use without concern.
It makes your meal and meal time enjoyable and delicious.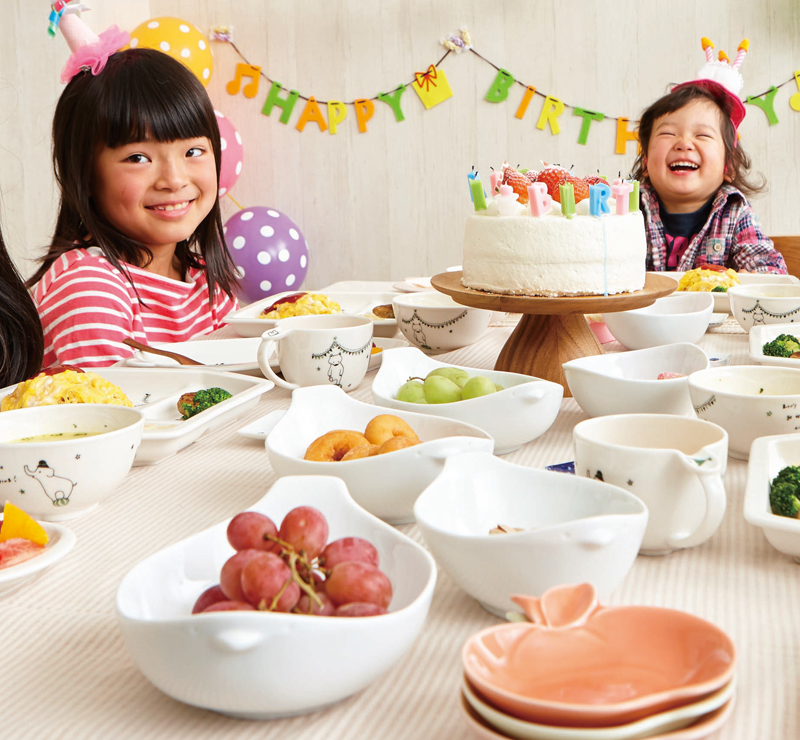 Safe tableware
Since white porcelain tableware is very smooth like glass, it is easy to remove the stain and can be kept clean. You can use for your children without worries.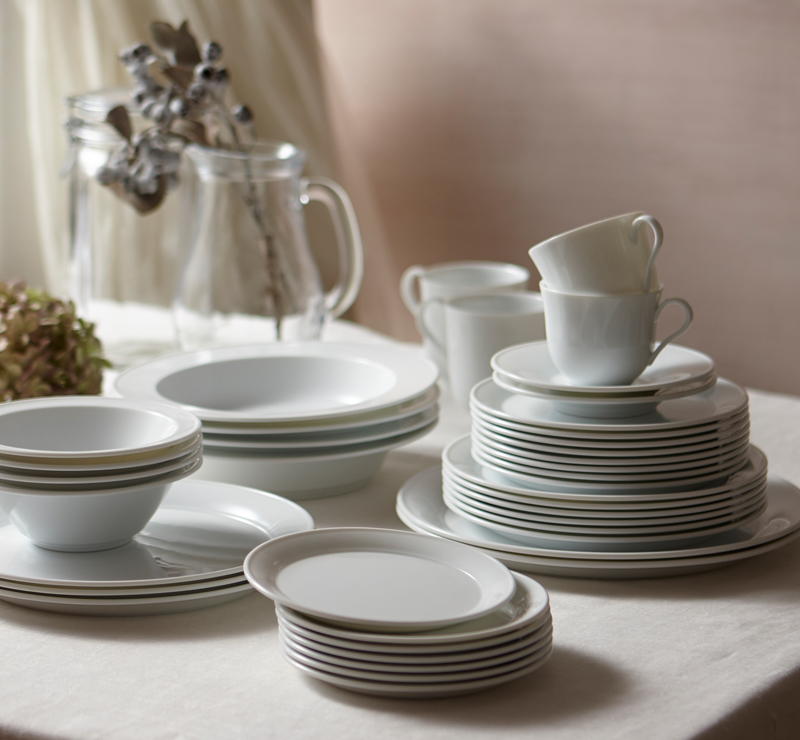 Usability(etc.)
We develop the products focusing on not only the features of material but also functions; for example, good stacking item and item with partition.
・
"Beautiful tableware"
Beautiful tableware is our spirit for manufacturing.
We have inherited and respected the esthetics of traditional Japanese who created HIRAGANA (Japanese syllabary characters) and will form this consciousness into the design of tableware suitable for our contemporary lifestyle. Our expectations are placed on this tableware which can help people to use our tableware for fun so that we carry on our manufacturing tradition and live with both of them for the future.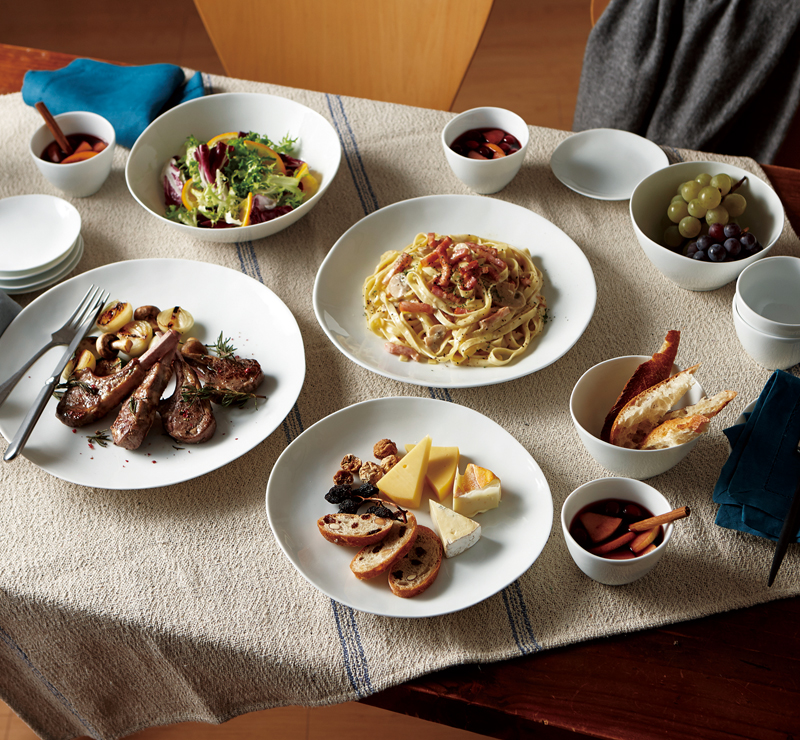 tableware for household
"suiren" white porcelain born in 1999, continued production until today as a basic item. 14 kinds of tableware such as plate, bowl, cup that are soft and delicate.
They are daily-use tableware suitable for various types of cuisine, Japanese, Western and Chinese.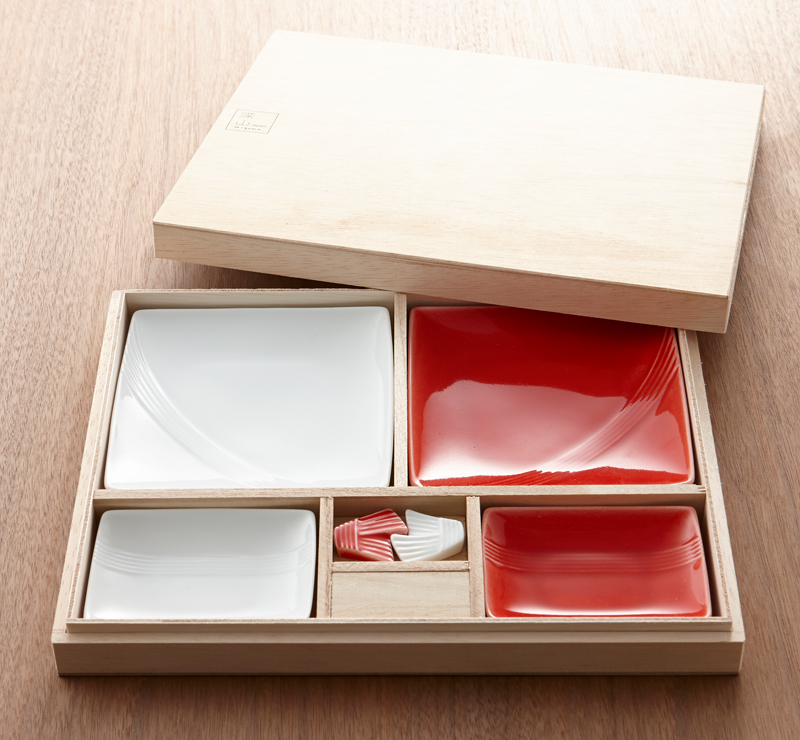 tableware for gift
"mizu-hiki": Red and white gift set with mizuhiki which is a symbol of celebration. Individual plate, small plate and chopstick rest are set in the wooden box like a mizuhiki shape. Both presenter and receiver feel happiness for these basic items.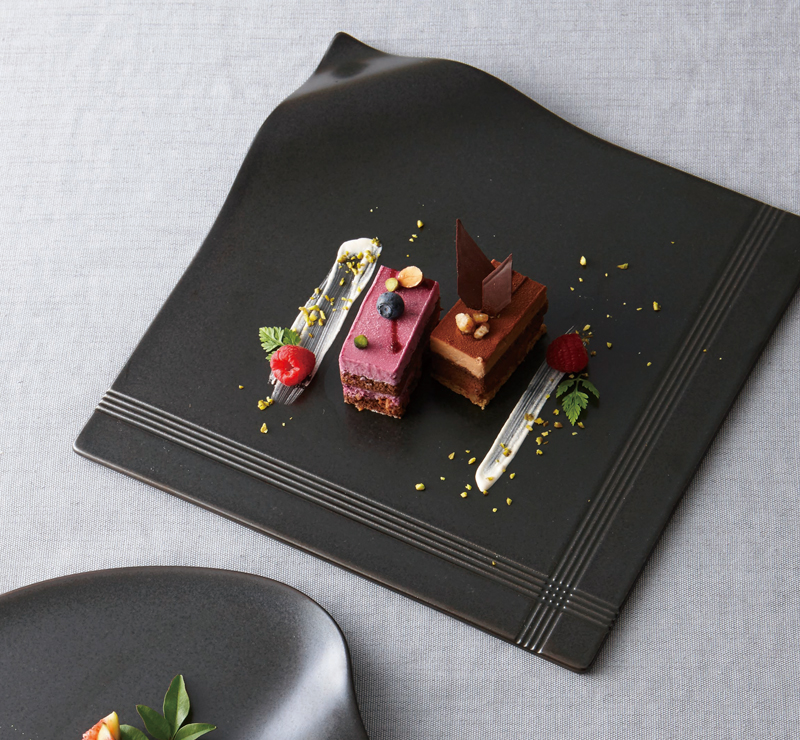 for Hotel & Restaurant
"for dinner": Basic circle and square plates on which chef can arrange the cuisine in a way he likes just like he paints on the canvas. One side is higher than other sides, which makes serving easy.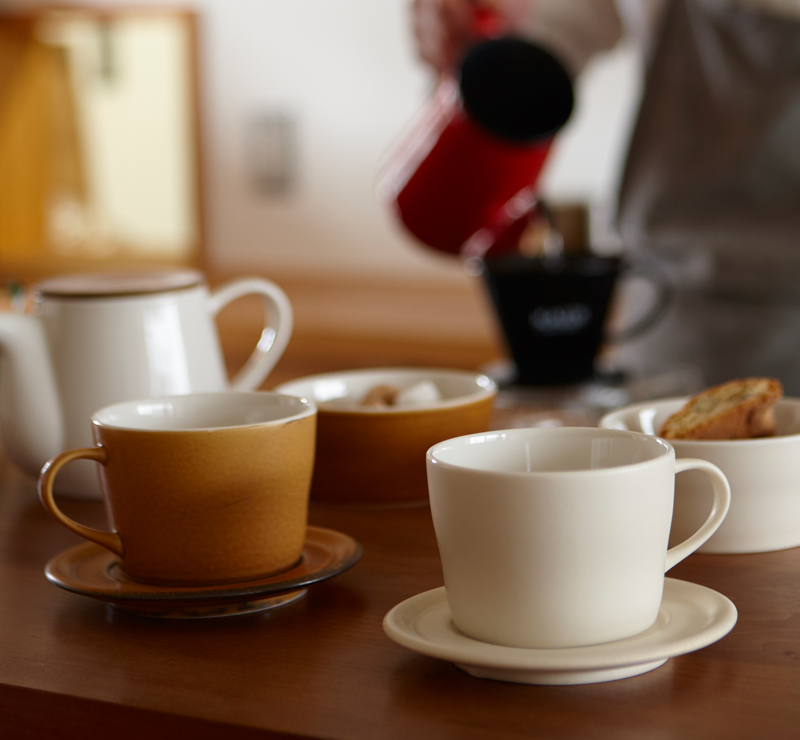 cafe/Tea set
"bico": Tea pot, cup and saucer to spend comfortable time with coffee. Tea pot, tea leaves and saucer for tea cup to spend relaxed time with Japanese tea. Tableware for spending precious time in your own way.
・
"Create together"
Manufacturing ceramics has a factor to manufacture fine products by harmonizing with clay, flame and other things which are difficult to harmonize.
Incorporating the idea of clients and designers, we develop the products utilizing traditional material and traditional technology of this area.
Planning, forming, painting and firing. All these manufacturing processes are done in our company, therefore we can watch and value the manufacturing in detail. As a result, we can finish best suited products.
This is how we manufacture together.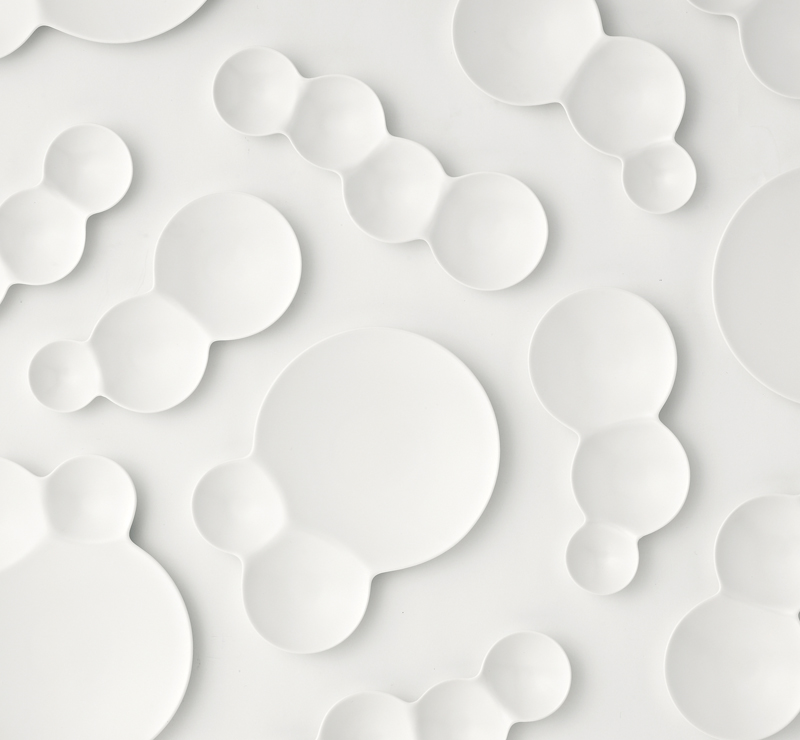 savone
Collaboration with Consortium brand, "Metaphys". Three types of plate with partition, enjoyable and sophisticated like bubbles.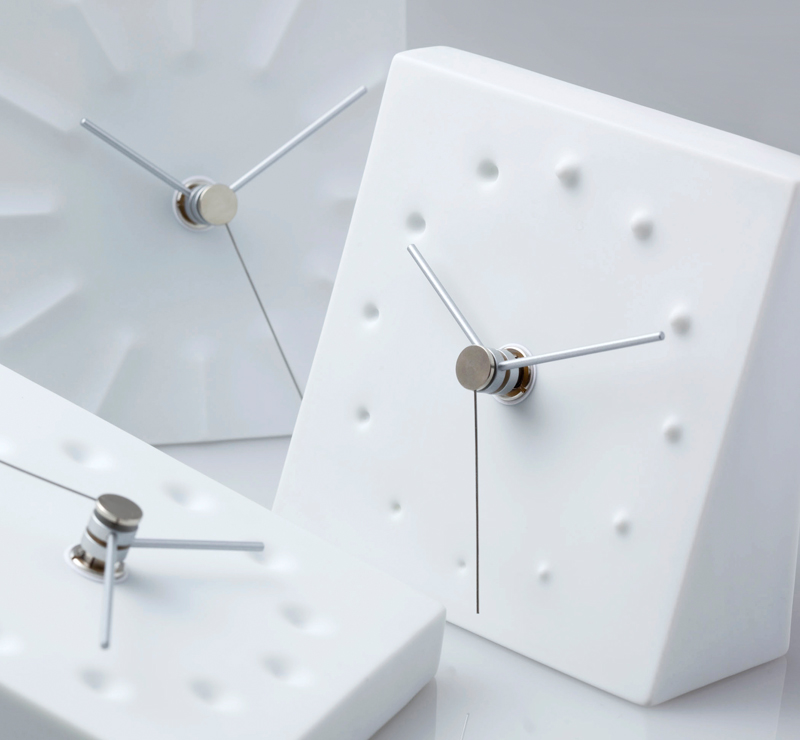 Drops draw the existance
Stand clock ordered by Japanese designing manufacturer, TAKATA Lemnos which produces lifestyle-item focusing on design clocks. The texture of white porcelain clock is very good.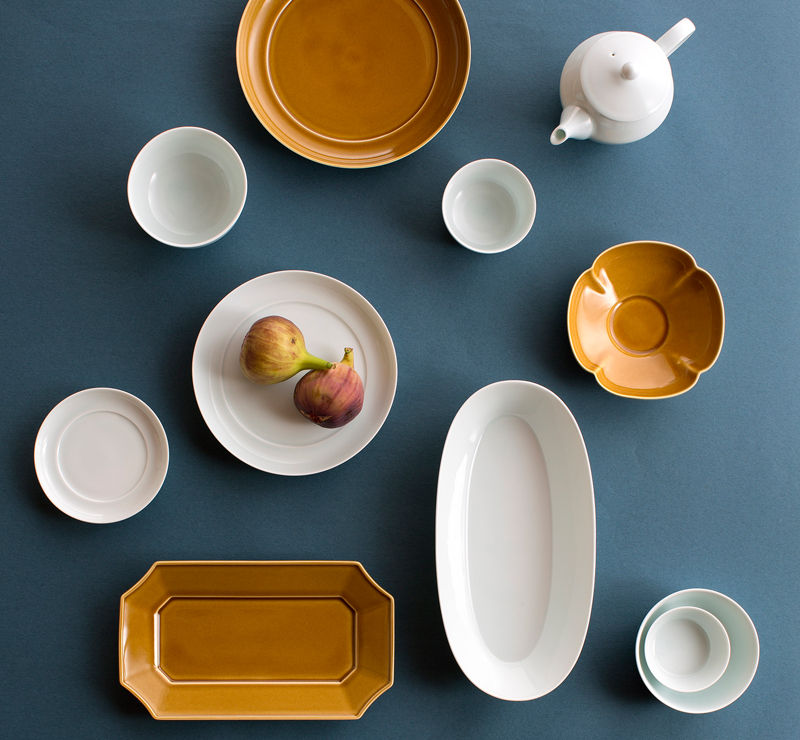 mizu-mizu
Oda Pottery which produce white porcelain vessel by throwing mold with the designer Rina Ono. And also with Miyama. All of us produced the item together in order to show the freshness of the cuisine imaging the dining table.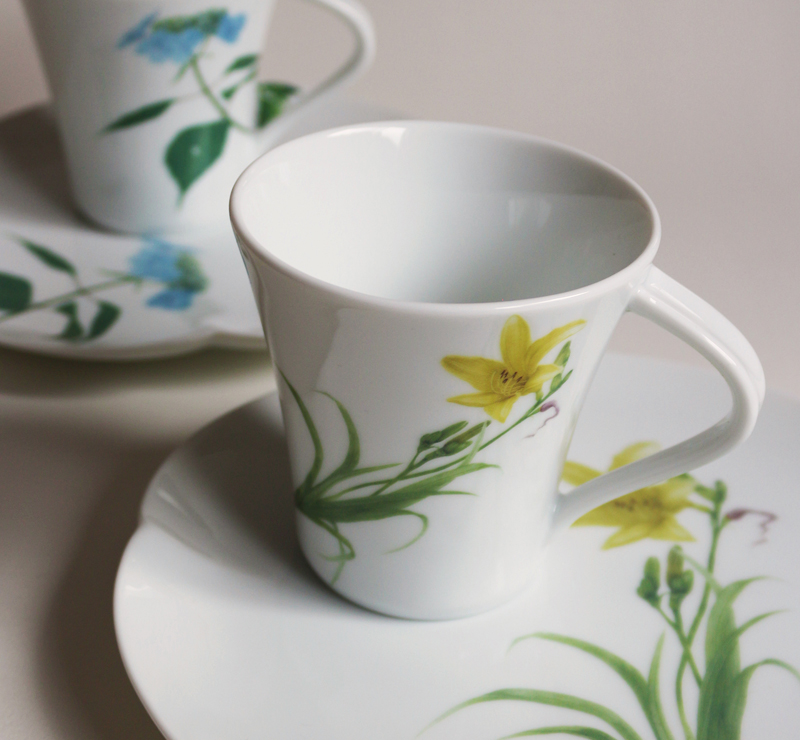 The flowers from Mt Tanigawa
Tableware on which the flowers in the botanical pictorial book published by laboratory of painting technique and material, Tokyo University of Arts are painted. Colors of the flowers are reproduced as faithful as possible utilizing ceramic skills and over glazed.